Early Years Foundation Stage

EYFS is made up of Nursery and Reception
Hello and welcome to the EYFS at Featherby!
The Early Years at Featherby is divided into 2 year groups. Our 3-year-old provision is the Rainbow Room lead by Mrs Dawson and supported by Mrs Wynne and Ms Williams. Our Reception Year is lead by Miss Albani, Mrs Lafazani and Mrs Nicolaou and supported by Miss Smith, Miss Lawrence, Mrs Matthews and Mrs Gill. We work closely together to ensure children make excellent progress from age 3 to 5.
We also work very closely with the SEND team so children can access high quality support for any additional needs they may have.
Here at Featherby we have an open door policy and if you have any questions, concerns or simply want to share something about your child with us we are always willing to speak to you.
At Featherby we use Development Matters to track children's progress throughout their learning journey. Children are baselined at the start of each academic year, this then informs our planning for the half term. We then assess the children's progress again each half term until they move onto the next year.
Using Development Matters alongside our own curriculum maps means we get complete coverage of all the EYFS development steps through an exciting, enriching curriculum. We use an app called 'Tapestry' so that we can record their development and keep parents informed about learning in school. You will be able to see what your child is doing on a regular basis and you will be able to upload 'Wow' moments from home which will support our future planning. For more information, please click on Tapestry.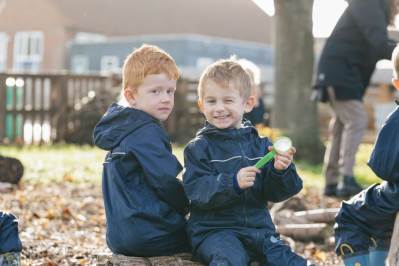 The themes we cover over 2 years are:
| | | |
| --- | --- | --- |
| All about me! | Autumn/ Lets celebrate! | People who help us/Transport |
| Spring/ Look at us grow! | Here come the animals! | Fun in the sun! |
| Dinosaurs | Under the Sea | Summer/We are healthy! |
At Featherby we believe passionately in the importance of an Entrepreneurial Curriculum. This in an opportunity for children to learn and showcase their learning to the school community, their families and the wider community. Recent examples of a 'Big Outcome' in the EYFS was a Fairy Tale themed afternoon tea and play session. Parents were invited into school to share an afternoon tea with their children. The children had made all of the food that was shared, and they made all of the decorations that were used to adorn the tea room. We used bone china tea sets and cakes stands and the children helped to set it all up.
After the tea the parents and carers were invited to stay and play in a room that had been set up with a variety of activities. The children showed their parents and carers how to carry out the tasks such as making crowns . It was wonderful to see such young children become the teachers!
Children have the opportunity to take part in Forest school sessions every week. We have fully trained forest school leads in school and believe strongly in the importance of outside learning and the opportunity for children to be within nature and the natural environment.
Every Child is unique and equally valued!